Middleburg, PA Pro Shop: 570-837-2155
Green Fees The Pro Tournaments/Champions Directions The Course
Policies Events Shade Mountain Bar & Grill 2016 Membership Forms Middleburg Pool 2015 Better Ball Results
---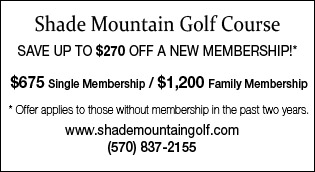 ---
Send us your e-mail address and we'll send you upcoming tournaments, specials and other info.
Just click on the blinking E-mail...when your e-mail opens, type in your name ...then send it!

The course at Shade Mountain is breathtaking. 18 holes built in 1969 by designer Ed Ault has bent grass on the greens and winter rye on the fairways. Skillfully molded 200 acres nestled amid the picturesque woodlands and the lush rolling terrain in the shade of a mountain, captures a course that is challenging and rewarding. The course is punctuated with glistening ponds, rambling streams, white sand bunkers, elevated tees, and finely manicured greens.
Each hole has a unique character that requires patience, respect and careful shot planning. Golfers face tight landing areas from the tees, with sharp doglegs and hazards guarding the line of play. The sequence on the back nine has been described by enthusiasts as unsurpassed in golfing difficulty.
Visit our
Shade Mountain Bar & Grill Restaurant
If you're looking for a quick sandwich or a snack
The Shade Mountain Bar & Grill is the place for you.
Patrons at Shade Mountain enjoy a casual dining experience.
Pro Shop: 570-837-2155 Restaurant: 570-837-9997